本公演は、出演者の都合により延期とさせていただきます。再公演の日程につきましては、後日改めてお知らせいたします。
Please be informed that this event was postponed due to performer's curcumstance. we will announce re-schedule and alternate program at a lete date.
11月20日開催 SCF Hemkonsert Vol.13 "Stefan Wingefors Trio Jazz concert"
コンサートシリーズ第4回目の今回は、晩秋を彩るジャズの音色をお楽しみください。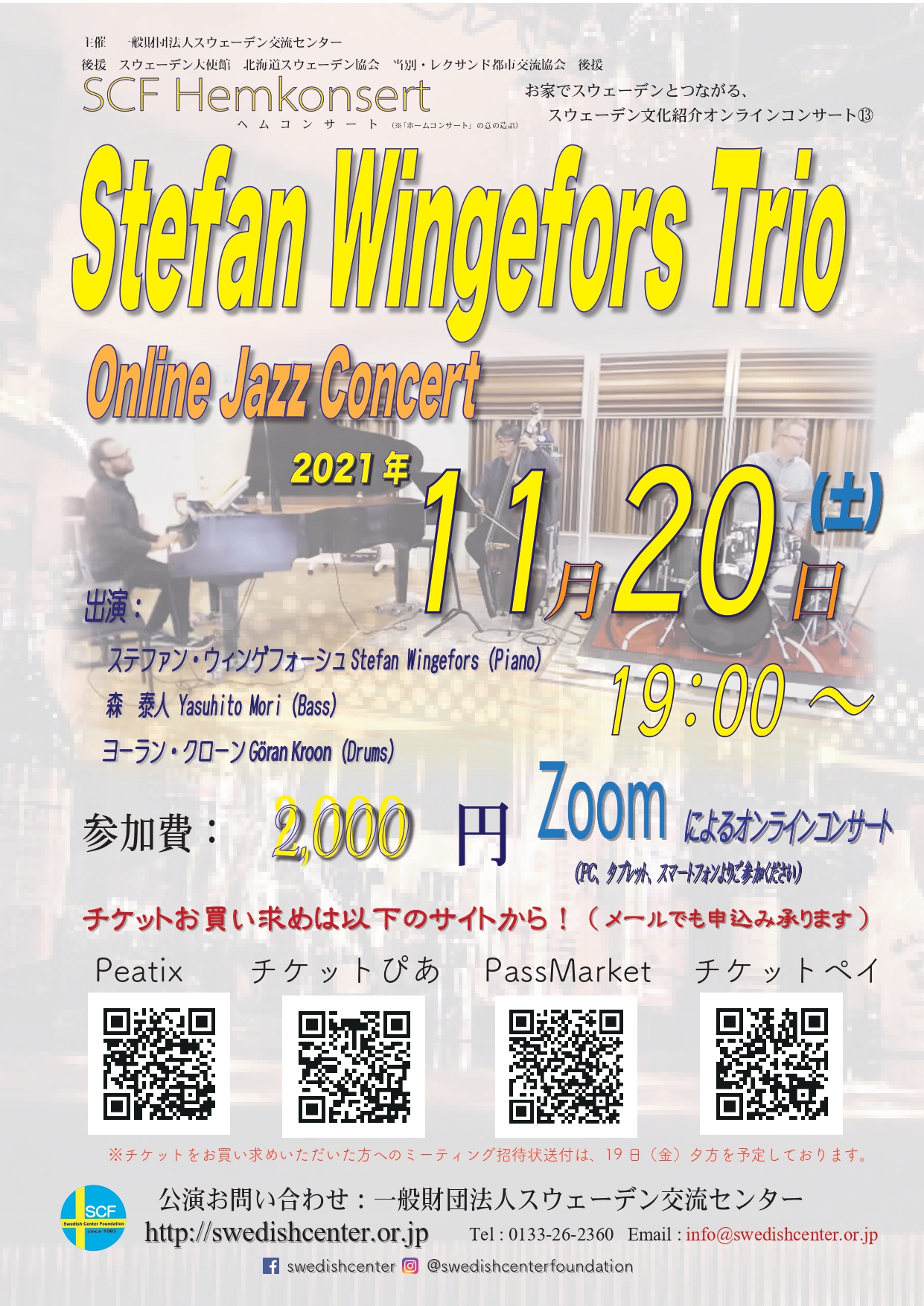 出演してくださるのは、春のオンラインコンサートでも出演し、配信時の音質も良く、息の合った素晴らしいジャズの音色を聞かせてくださった、Stefan Wingefors Trio。ステファン・ウィンゲフォーシュ(Piano)、森泰人(Bass)、ヨーラン・クローン(Drums)の3人のミュージシャンたちです。コンサートの後には、出演者の3人とお話をする時間も予定しておりますので、ジャズのこと、スウェーデンの音楽のことなど、普段聞けないこともぜひミュージシャンに聞いてみてください。
秋の夜長を素敵なジャズサウンドの聴きながら過ごしてみませんか?
We SCF will hold an online event by "Zoom" to introduce swedish culture and swedish artists living in Japan/Sweden.
The 13th concert will be Jazz concert by Stefan Wingefors, Stefan Wingerfors(Piano), Yasuhito Mori(Bass) and Göran Kroon(Drums). they performed high quality jazz sound this spring.
Previous concert got favorable reputation by performe's high quality webcast environment, needless to say their high quality music. Plesase look forward to their wonderful jazz sound and the precious online concert!
Please purchase the ticket following ticket guide!
peatix(availble purchase from outside Japan but require Paypal)
https://scf-hemkonsert-vol13.peatix.com/
パスマーケットpassmarket(Required Yahoo ID, Available foreign credit card)
https://passmarket.yahoo.co.jp/event/show/detail/02fi4chsiey11.html
チケットぴあ Ticket pia
http://ticket.pia.jp/pia/event.ds?eventCd=2128843
チケットペイ Ticketpay(Available foreign credit card)
https://www.ticketpay.jp/booking/?event_id=35078